Step 1
Download
and install ImageConverter Plus
Step 2
Select your
PNG images
in Windows Explorer, right-click on them, select Convert To, and then select Custom conversion

Step 3
Select
JPG format
and specify other settings (such as
image resize
) if required

[social_small]
Information about PNG and JPEG formats
PNG (Portable Network Graphic) – the image format developed to replace its predecessor GIF. It supports up to 48-bit truecolor or 16-bit grayscale images. PNG also supports a full range of transparency, but its main advantage is being fully lossless. One can edit and save PNG images as often as necessary without compromising image quality. Although there are more advantages to PNG than disadvantages, converting PNG to JPEG is quite a common task. PNG graphics may be quite heavy for the web, while JPEG is an ideal format for web graphics. JPEG is a lossy format, which means that each time the file is saved as JPEG there is some quality loss though not really obvious to a regular user.
Converting PNG to JPEG
ImageConverter Plus allows converting images from PNG to JPEG. The main task the developers faced was to make this type of conversion with as little quality loss as possible while reducing the file size. Converting images from PNG to JPEG can be performed with only a few steps and can be used for a single image as well as huge image folders. Apart from regular conversion settings set by default there are some for advanced users. Saving images in JPEG format allows editing EXIF and IPTC data, choosing compression mode (baseline, progressive, lossless, or sequential), color depth (from 8 grayscale up to 24-bit true color) and setting a desired image quality from 25% up to 100% where the latter one means that the original image quality has been preserved.
Professional image protection
Professional approach to the image files you create requires professional approach to copyright that ensures your income. The number of images you need to protect from illegal use is not of major importance – any number of images should be subjected to copyright protection. What if you need to demonstrate your image to a customer? You can use your logo or send a thumbnail version of your image. But none of these options guarantees copyright, plus none of these options are really suitable for a customer. You are likely to prove your authorship in court if things go that far, because you will be able to present the original images left in your computer. But guess how long it takes and how nervous the process will be? You should take some technical precautions not to go that far. Copyright your images making it impossible for others to copy or correct them. When converting images from one format to another so that the customer can easily open the file, create a special endorsement (i.e. "example" or any other word you find appropriate). To remove the copyright watermark is pretty difficult or sometimes impossible. Still, this makes the image available to a customer for who the watermark will not be a problem to evaluate the image. Copyright watermark created with ImageConverter plus is an ideal professional approach to image protection.
Command Line
You can convert PNG images to JPEG via command-line of ImageConverter Plus as shown in the example below. This example demonstrates how to add the logo to the converter JPEG images (in the bottom right corner). Thus you can copyright your files.
>
>
icpcl.exe -dest "C:converted" -convertto jpg bpp:24 quality:85 -oper Watermark image:"C:my_logo1.jpg" halign:right valign:bottom offset_x:0 offset_y:0 -source "C:images*.*"
>
Buy Now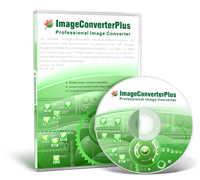 Image Converter Plus
– is a professional converter for graphic files, photos, drafts, financial documents and other images of any type.
General license – $49 per copy
Volume discounts – up to 5 copies – $39 per copy
Volume discounts – up to 10 copies – $29 per copy

Related links