Convert TGA to JPEG. Processing images with transparency.
TGA image format is pretty old. It was introduced in 1984 as an output format of Truevision® video capture cards. TGA became quite popular with software developers as it was quite simple to process. Actually, it was the first true color format. In 80s of the XX century, most true color images were stored as TGA files. Today there are many files of this format. Many software technicues use TGA as a format for exchanging graphics data. For example, many popular games save screenshots in TGA format.
Still, TGA format failed to become a recognized standard for true color and palette images. It's not supported by system means of Windows OS (as it is not supported by Internet Explorer), although many graphics viewers do support it, sometimes partially.
We recommend that you convert your TGA files to PNG format. This allows you to keep all pequliar features of the source file, including transparency and alpha- channel. Unlike TGA, PNG format performs effective lossless compression of images and is an industrial standard for image storage. Image Converter Plus allows you to accomplish this task in a blink - load needed TGA images to Image Converter Plus, select PNG as output format and press "Start" button.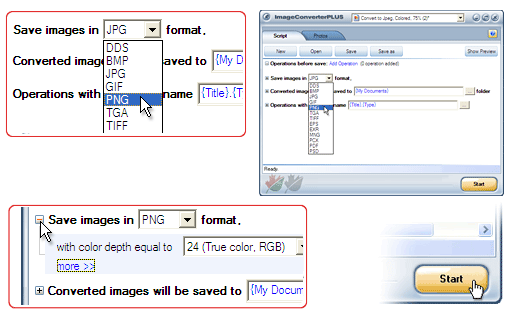 If resulting image size is important to you, convert your TGA files to JPEG format. This solution will only be effective for true color TGA files. Image Converter Plus allows you to convert series of TGA files to JPEG in a blink.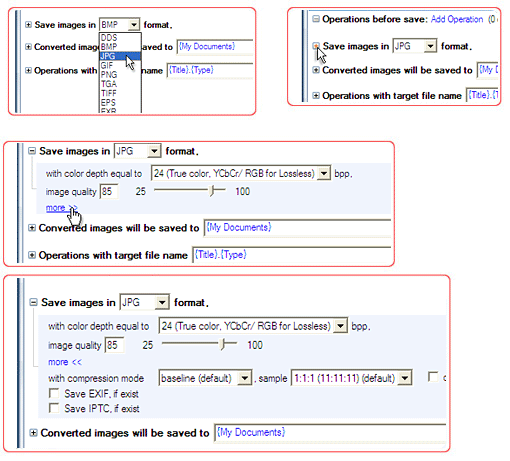 When converting files with transparency or alpha-channel to JPEG, transparent areas will be filled with background color. By default, Image Converter Plus offers white background color. You may change it to any needed color with the help of corresponding Replace Color plugin (Add operation -> Replace Color)